ANNOUNCING PUBLICATION OF THE CHURCH OF BELIEF SCIENCE'S REFORM CHRISTIANITY BIBLE.
THIS BOOK CAN BE DOWNLOADED AT: https://www.smashwords.com/books/view/959767
Available ebook formats: epub mobi pdf lrf pdb txt html. $7.99
This is a postmodern revision of the four Gospels. It is an affirming, inspiring, and positive version of the Gospels. The Gospels are revised according to the principles of the Church of Belief Science, a fully postmodern church. Readers will experience a reformed Christianity which is positive, inclusive, and embracing. The revision provides a picture of Jesus of Nazareth, a man who believed he held a special place in the history of his people. In this version of the Bible, there is no hell, condemnation, sin, or hatefulness. It is a narrative of the power of love over hate, non-violence over violence, faith over death, and hope over hopelessness. It is written to be friendly to sexual minorities and, as far as possible, it is gender neutralized. Although the Bible is patriarchal, this version is more friendly to women. It is also friendly to people with disabilities, as any reference to disability related to sin or possession is modified. Jesus's commandment–to love one another as he loved–is the focus of this narrative. Readers will want to return to this text regularly as they will find it to be a spiritual guide and a welcoming manual for religious practice.
Cottone's 2011 book, Toward a Positive Psychology of Religion: Belief Science in the Postmodern Era, is available as an e-book or in paperback. Paper copies or e-books are available at bookstores or at on-line retailers (e.g, Amazon.com). It is an entertaining, personal, yet scholarly treatise on belief science.To order the e-book or print copy on line, use the Amazon.com link below or visit you favorite on-line book retailer.

REVIEWS:
This is a brilliant work. The ideas in this book are revolutionary. Robert Rocco Cottone has produced a work that is destined to be a classic. He has merged ideas from the Positive Psychology movement, ethics, postmodern philosophy, and religion into a vision of religion for the future. He skillfully guides readers through complex ideas — infusing humor, personal stories, and student-teacher dialogues to make the ideas lively and accessible. Each chapter builds and extends the reader's understanding. Then, at the end, he makes the case for a new religious order. Science and religion are reconciled. A truth is defined. And the reader is left filled with hope along with a new, postmodern understanding of religion. Dr. Mark Pope, Past President and Fellow of the American Counseling Association. Fellow of the American Psychological Association.
This is the postmodern credo from theory to practice; it is a great accomplishment. Dr. Mark Banschick, Hebrew College.
This book is provocative, enlightening, and affirming of our deepest social need to connect spiritually with others. Robert Rocco Cottone critiques the ancient religions and atheism in a way that will likely arouse believers of these traditions. Rather than being unsettling, his analysis is eye-opening and inviting. He adds to his critique an alternative, unique, and positive way of understanding religion and belief. The blending of Positive Psychology and postmodern philosophy is refreshing and groundbreaking. This book represents a call for a new ethical movement in religion—toward a positive psychology of religion. You will never view religion the same again. Vilia Tarvydas, Ph.D., Professor of Counseling, Rehabilitation and Student Development at the University of Iowa, and the Director of the Institute on Rehabilitation and Disability Ethics.
In a time when post-modern discourse could make even an academician's head spin, Dr. Cottone applies this discipline to a study of religion in a down-to-earth, easy-to-read style that even philosophically weak-kneed people will enjoy. He explores a wide gamut of important and fascinating issues in religion, with conclusions that extend beyond the intellectual realm and into the practical dilemmas of everyday living. This is a must-read for anyone interested in the philosophy and psychology of religious studies. John Suler, Ph.D., Professor of Psychology, Rider University
The print or electronic version of Toward A Positive Psychology of Religion: Belief Science in the Postmodern Era may be ordered at a discount through AMAZON.COM at the following link:
www.amazon.com/Toward-Positive-Psychology-Religion-Postmodern/dp/1846944295/ref=sr_1_1

To order through BARNES AND NOBLE on-line, use this link:

www.barnesandnoble.com/w/toward-a-positive-psychology-of-religion-rocco-cottone/1102942241

THE CHURCH MANUAL HAS BEEN COMPLETELY REVISED AND IS AVAILABLE IN A SECOND EDITION, ONLY IN E-BOOK FORMAT.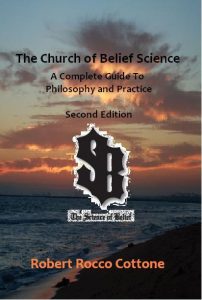 Order the Church manual for $5.99 at the following link: